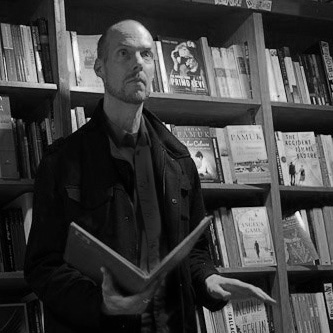 Erik Boman is a Swedish writer who lives with his family in Oxford, UK. This is him at a reading in a local bookshop. He's as nervous as he looks.
His first novel Siren Song (book one in the Detective Lena Franke Series) has been an Amazon bestseller in its category. A blend between gritty Scandinavian crime and paranormal fiction, it follows a damaged but determined Swedish detective who hopes to track down both a callous murderer and a man trapped in his own private hell.
Erik grew up in suburban Stockholm, Sweden. After thirty-odd long winters, he moved to northeast Australia for studies, but also because cat-sized poisonous spiders are less terrifying than three minutes of sunshine per year.
His bookshelf is a tumultuous mess of speculative fiction. At its epicenter are plenty of re-read works by William Gibson, Margaret Atwood, Neil Gaiman, Laura Purcell, and Alastair Reynolds. There's also a mound of books by Terry Pratchett, and a growing pile of poetry.
He's a friend of any text that takes the reader out of this world and away to other places. Sometimes even nice places.